Dimitri Teresh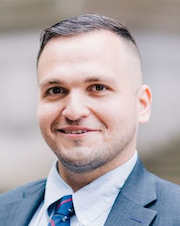 Attorney
Dimitri Teresh is a former Prosecutor in Kings County, New York, and in Middlesex County, New Jersey. He has also served as a Public Defender. He later moved to civil practice where he primarily handled employment litigation. At TKF, he is responsible for complex insurance litigation (representing policyholders only), employment law matters, and general commercial litigation.
Dimitri is a 2012 graduate of Fordham University law School, and earned his Bachelor's Degree magna cum laude in 2008  at William Paterson University, with a double major in psychology and political science.
He is fluent in Russian, has a working knowledge of Hebrew, and can speak basic Spanish. In his spare time, Dimitri raises huskies.
He is admitted to both the New Jersey and New York bars.