Laura V. Studwell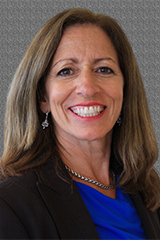 Counsel
Laura Studwell is an accomplished commercial litigator with outstanding credentials and over 20 years of experience. Her clients have included Fortune 500 companies, and she has been responsible for all facets of high-stakes litigation, including first-chair trial experience, motion practice, discovery and appeals. She has successfully handled professional negligence suits, director and officer liability suits, shareholder disputes, employment law matters, estate litigation, and commercial breach-of-contract matters.
Reported cases on which Laura has worked include:
Rosa v. Resolution Trust Corp., 938 F.2d 383 (3d Cir. 1991)
Resolution Trust Corp. v. Cedarminn Building Limited Partnership, 956 F.2d 1446 (8th Cir. 1991)
Ross v. Ross, 308 N.J. Super. 132 (App. Div. 1998)
S&R Associates v. Lynn Realty Corp., 338 N.J. Super. 350 (App. Div. 2001)
Laura is a graduate of New York Law School (J.D. 1986) and Fairleigh Dickinson University (B.S. biology with chemistry minor 1982). She is a member of the New Jersey and New York bars. She is the founder of the Professional Women's Networking Group, located in Westfield, New Jersey.